Vietnix Firewall Effective Anti-DDoS solution
DDoS attacks have always been of constant concern to online business. Suffering from DDoS attack can lead to many tremendous problems:
Loss of revenue due to system shutdown.
Losing credibility on account of unstable service.
Losing customers to competitors.
With nearly 10 years of experience in providing anti-DDoS services for VPS/Server in Vietnam, Vietnix is proud to bring you an effective Anti-DDoS Service with reasonable price, keeping your system stable.
Defense In Depth
Comprehensive DDos protection
♦ Vietnix Firewall is a multi-layered firewall, standing between the user and server. The Firewall is reponsible for analysing and blocking attack connections. ♦ Firewall refers to a comprehensive DDos protection, enhancing the stability of the system so that it can withstand DDos attacks.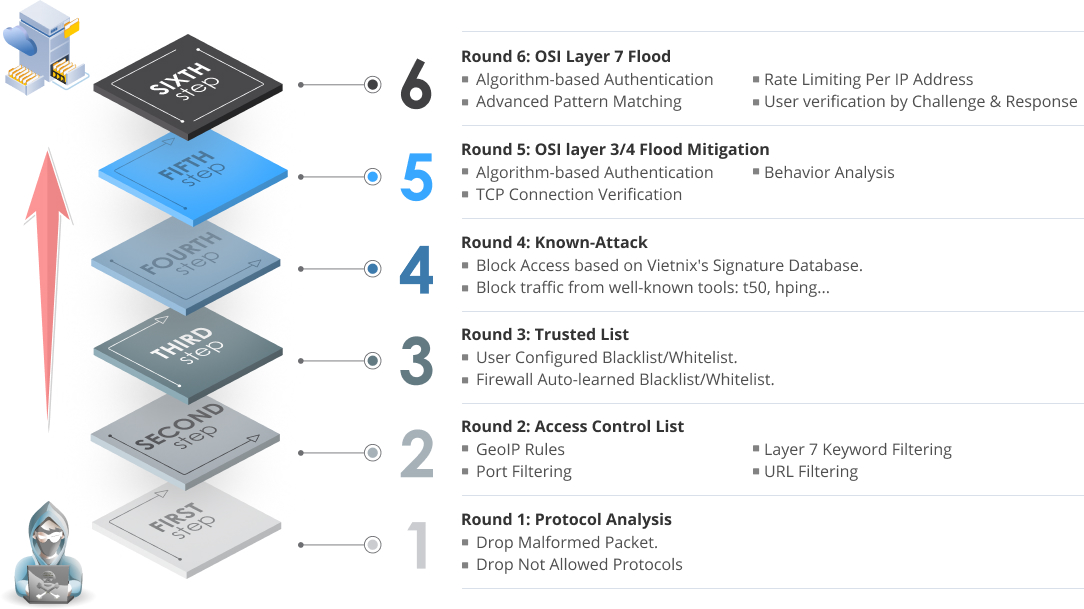 Which protections are the best for you?
Firewall Services detailed comparison
WHY SHOULD I CHOOSE VIETNIX?
Let Vietnix Firewall be your guardian
Exclusive technology
Anti-DDos Technology was created and developed by Vietnix since 2012.
Powerful hardware
Hardware is optimised from network card (NIC), CPU through strict benchmarking process.
Free trial
7-day free trial before officially register.
Comprehensive protection
Complete set of signatures helps to defend against most attacks in Vietnam.
24/7 Support
Expert and highly qualified technical team always ready to keep the service stable.
Experienced
Over 10 years protecting users from thousands of DDoS attacks.
Multi-layer protection
Firewall, Access, Core and Uplink servers are aggregated with 2 different cables using LACP and vPC Technology.
Flexible
Always ready to optimise Firewall to meet particular user's demand.

Live Chat
Chat with our supporter now

Hotline 1800 1093
Email support@vietnix.vn
Vietnix Firewall operates independently, hence it can protect any server with any operating system. Therefore, Vietnix Firewall is completely capable of protecting Windows server from DDoS attacks. If you need further information, contact us through Live Chat for instant assistance.
Vietnix Anti-DDoS Firewall is multi-layer based, which facilitate us in comprehensive protection against attacks from Network layer to Application layer. Thus, not only websites protection, but Vietnix Firewall can also protect VPS and Dedicated Server from DDoS attacks.
WordPress is one of the most common open-source in the world. Therefore, Vietnix focuses on optimising our services to gain our capabilities of protecting WordPress against DDoS attacks.
Information, instructions and operation mechanism of Vietnix Firewall are regularly updated on our website. Further information on "How to stop DDoS attacks" can be found at: https://blog.vietnix.vn/category/chong-ddos